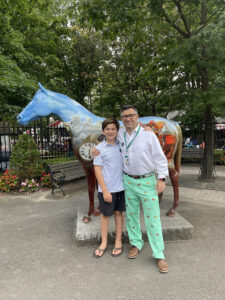 Raised within walking distance of Aqueduct Racetrack, Louis Mazzarelli gained a passion for horse racing from an early age. His grandparents would take him to the races—or the local off-track betting parlor—on weekends "with a budget of $9 and a dream to make a million" from as early as age 7. During the summers, he and his family would travel upstate to Saratoga Race Course when his grandfather worked for the track, and during Lou's time at the historic racetrack, he witnessed history and was introduced to legends.
"Other kids wanted to go to Disney—I wanted to go to the Spa!" Lou recalled.
Lou went on to attend medical school and now specializes in diagnostic radiology. But his self-described love affair with Saratoga rekindled his passion for racing after he completed his studies. While attending a Thoroughbred Owner Conference, he met Steve Byk, host of racing's longest-running daily radio news magazine, At the Races. When Steve's horse of his partnership Dee Tee Stables, My Pal of Pals, won a race at the Spa, Lou was part of the group invited to the winner's circle.
"The desire to be an owner was ignited," Lou said. "When I first saw the offer to be a syndicate member at the price point for the depth and diversity of horses, I was hooked."
A member of the original WinStar Stablemates fan experience, Lou was eager to take the jump into ownership when Stablemates made the transition into a racing partnership. Since then, he has enjoyed the ride—especially the one on which Paris Lights has taken Stablemates. While her win in the Coaching Club American Oaks (G1) is a standout memory for Lou, he will never forget the day he and his father attended Aqueduct when Paris Lights won her four-year-old debut in the Distaff Handicap (G3).
"The winner's circle at the Big A with Paris was my homecoming," Lou said. "Incredibly special to have my dad at my side with our grade one filly. Being trapped in the Big A men's room only added to the fun. Love reliving the coverage on NYRA Live!"
Lou's passion for racing is infectious, and he believes introducing others to some of the biggest joys in the game can spark their intrigue—if his passion doesn't wear off on them first.
"[I'd] spend a day together visiting the fillies on the backstretch with a friend in racing followed by a day at the races and a night at 15 Church," Lou said. "If this doesn't convince you this is God's greatest game, you'll need a pulse check and I am an MD!"