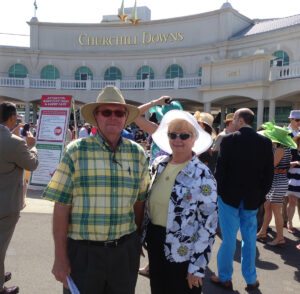 Though he grew up in Kentucky, it was ultimately Glenn Atkinson's interest in statistics and numbers that piqued his interest in horse racing. As someone who pursued a career as a CPA, a handicapping book based on numbers got him hooked on the sport. With his wife Courtlann a lifelong horse lover raised around horses, diving into the horse racing industry just made sense.
When Glenn retired in 2016, he purchased two broodmares, beginning his own personal journey into the Thoroughbred industry. He and Courtlann have been breeding their mares ever since, and in doing so have explored both routes with their horses: selling them at auction and keeping them to race.
But joining a racing partnership seemed like the right step to further their involvement in the industry. During a Thoroughbred Owner Conference at the Breeders' Cup, Glenn and Courtlann had the chance to meet WinStar Farm's CEO Elliott Walden, who informed them of the opportunity to experience racing at the highest level for a fraction of the cost through Stablemates.
Although this is Glenn's first year in the syndicate, he has enjoyed the ride, keeping up with the journey the fillies have taken the group on in 2021.
"Stablemates had been on our radar for some time," Glenn said. "This year we finally got the chance to come aboard."