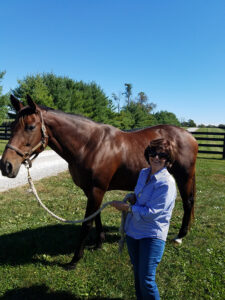 The 1970s are often referred to as a golden era for American horse racing, and they certainly resonated with Stablemates Racing member Irene Davis. While it was a big red horse named Secretariat that captivated most fans, it was the 1977 Triple Crown winner, Seattle Slew, that captured Irene's heart.
Thanks to Seattle Slew, Irene has remained in love with racing. While she finds great joy in following "Slewbloods"—descendants of the great racehorse and sire—she has expanded her horizons into partnership ventures. Though she'd experimented with others, she knew WinStar Stablemates was the right choice for her and her husband, Bill.
"Having visited WinStar Farm, we believed this would be a first class operation and a good opportunity to get involved in a partnership again," Irene said.
Irene has enjoyed a variety of experiences with Stablemates, but can pinpoint her two favorites: Paris Lights' victorious run in the 2020 Coaching Club American Oaks (G1), and the opportunity to name former Stablemates filly Passionof the Nile.
"Thoroughbred racing is the most exciting of sports," Irene said. "Watching these magnificent horses turning for home, the thunder of their hooves on the track and crossing the finish line,  especially when your horse wins and even more exciting to be there at the track, watching them live, it's thrilling."