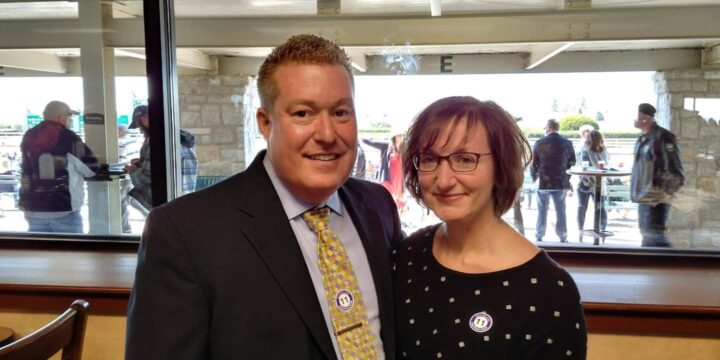 Originally from Monroe, Indiana, near Fort Wayne, Shanon Schug has spent the past 20 years in Richmond, Kentucky, just south of the heart of horse country in Lexington.
Like many racing fans, the Run for the Roses drew him into the sport. From 1995 through 1997, while in college, Shanon attended the Kentucky Derby from the infield. And from there, he was hooked.
When Shanon and his wife, Denise, moved to the Lexington, Kentucky, area in 2002, being surrounded by horse country only added to his interest in the industry.
"I always wanted to get to a higher level, whether that was at the syndicate level or even just a higher level of understanding the inner workings of the sport," Shanon said.
The Derby has remained a cornerstone in his horse racing journey. After Super Saver became WinStar Farm's first Kentucky Derby winner, Shanon signed up for the WinStar Stablemates program. He has stayed aboard since then, along for the ride from the original Stablemates experience and into its transition into a syndicate.
"I remember talking to Elliott Walden at the Stablemates party and asking if Stablemates would eventually evolve into something bigger like a syndicate," Shanon said. "He told me he had to look into it, and now here we are."
Along the way, his favorite experience with Stablemates thus far was when he won the 2018 WinStar Derby contest. He took that opportunity to take his dad to his first ever Derby—"in WinStar style."
He and his father certainly made the most of that experience, hitting the $1 superfecta that included WinStar's Justify and Audible for a payout of nearly $20,000.
While the Derby has had perhaps the most influence on Shanon's experience in racing, many aspects of the industry have added to Shanon's passion for horse racing. From the races themselves to all of the statistics involved, to following horses through each season of their life and all the way through aftercare, the industry fascinates Shanon—and enjoying it with fellow Stablemates Racing members has only enhanced his involvement within it.
"There have been a lot of highs with Stablemates," Shanon said. "It's been beyond expectations."