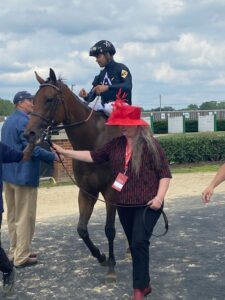 For Rebecca Teal, involvement in the Thoroughbred horse racing industry has been a lifelong desire. When the opportunity to be involved with high-class racehorses for a fraction of the cost arose with WinStar Stablemates Racing, Rebecca couldn't help but pursue it. Ever the avid learner, she saw Stablemates as not only an opportunity to experience ownership of quality Thoroughbreds, but a chance to learn more about the industry she's loved her entire life.
"Joining Stablemates meant I could be involved with a top class racing organization, have horseflesh I could never afford, race at the highest level of racing (which I could not afford, on my own), and to learn about the costs and procedures of racing so maybe I could try on my own," Rebecca says. "Even a blind pig can find an acorn—it's what keeps us dreaming."
Rebecca has done exactly that, venturing into the breeding side of the industry with the purchase of her own broodmare last year. This spring, she welcomed her first foal into the world and looks to continue this endeavor.
Along with that new undertaking, Rebecca continues to relish her experience with Stablemates. A part of the syndicate since it began, she can't help but reminisce on the special moments she has enjoyed as a member.
"Being there for our first win, stakes win and new track record all in one, winning at Keeneland, leading Blessings First into the winner's circle for her maiden win—a bucket list item for me, running first and second in the grade one Coaching Club American Oaks, farm visits and events…" Rebecca reflects, and could keep going.
In fact, Rebecca added to her list of special experiences with Stablemates on the final Saturday of June, when she was in attendance for Crystal Ball's win in the $250,000 Lady Jacqueline Stakes. Once that race was on the radar, she knew she had to attend, as her late mother's name was Jacqueline. As if being there was not special enough, Rebecca watched as Crystal Ball dashed to victory. But then, WinStar CEO Elliott Walden and trainer Rodolphe Brisset asked her to lead the filly into the winner's circle.
"It was just the icing on a cake that I could not have imagined tasting any better," Rebecca says.
With a strong competitive nature, winning is certainly one of Rebecca's favorite aspects of being involved in a racing partnership. However, what she didn't expect was the camaraderie among syndicate members.
"When I joined, these fillies were mine, although there were other people involved," Rebecca says. "I also did not realize I would learn from them as much as the team. Having someone who gets it and loves it as much as you do, is special indeed. Meeting and becoming friends with fellow Stablemates and Stablemates staff was totally unexpected and a wonderful part of the whole experience."