Saturday was an interesting day for sure and to put it simply it wasn't New Day Dawning's day. Tyler Gaffalione's comments after the race were that New Day Dawning never handled the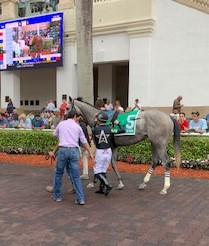 track. There was a lot of rain overnight and it was a heavy and tiring track. If you watch the replay you will see New Day Dawning's head carriage is outstretched and the rider has a loose rein early on down the backstretch. This indicates a horse who is struggling over the surface and not getting a hold of it, we would use the term "spinning her wheels".
Although, we have never thought that she would be a dirt sprinter long term in her career we were expecting a better performance than what we got today. The good news is she came out of the race in good shape, and she did not bleed.  We will monitor her closely over the next week to make sure something under lying doesn't show up.